Dyfrig's career spans over 20 years, in that time he has designed and facilitated employee, apprentice, graduate, management, leadership and organisational development initiatives for leading brands with diverse cultures. He has led operational and corporate Learning & Development teams and worked with a wide range of people up to board level, so he understands the pressures and rewards of being a manager and a leader in business.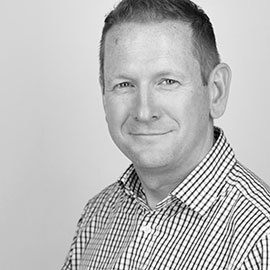 He has worked with highly commercial existing and start up brands that have experienced high growth in traditional and technological environments; previous employers include international businesses with multiple locations and functions.
Dyfrig has worked in the hotel and catering, travel and tourism and financial service industries. He has worked in hospitality and catering, Thomas Cook's Airline, Overseas and UK operations and Barclaycard's UK and overseas businesses. His last employment was as Senior Manager Leadership & Development for the BGL Group including its most well-known brand, comparethemarket.com.
Dyfrig's experience means that he is comfortable working at operational, tactical and strategic levels and influencing people up to board level. He has a collaborative and long-term approach, so you'll be assured that your people development projects will meet your expectations. He says "through the right balance of support and challenge, people can increase their capabilities, making them and the organisation they work for more productive and successful.
He values integrity and inclusive, effective and innovative working partnerships. His aim is to support people to develop their capabilities, regardless of their background or experiences, so they can realise their potential.
During his career Dyfrig has developed the knowledge, skill and behavioural capabilities of hospitality staff, airline cabin and flight crew, overseas representatives and managers, yacht skippers, aircraft engineers, contact centre teams, corporate functions from finance to marketing, .com and product development to sales and HR. He has worked in the UK, Germany, France, USA, Canada and India and has supported teams who worked across the globe.
He works with business leaders to deliver initiatives that include recruitment, on-boarding, induction, professional skills development, recognition and performance management processes. He also creates and facilitates workshops and programmes that include Customer Experience, People and Team Management, Leadership Development and Change Management. Dyfrig has worked alongside the Centre for Creative Leadership, Ashridge and Visa Business Schools, the ILM and CMI to deliver solutions for his previous employers.
Dyfrig qualified as an Executive Coach in 2016 with the Academy of Executive Coaching; he is a MBTI Step I and Step II practitioner and has OPQ 32 and Hogan HDI and HPS accreditations.
Areas of expertise:
Organisational Development
L&D
Business & Executive Coaching
Psychometrics
Training & Group Facilitation
Professional Qualifications / Awarding Bodies/ Memberships:
MBTI Step I & II
Executive Coaching
OPQ 32
Hogan HDI and HPS